Al-Shareef AV over IP distribution solutions enable you to build on staff and consumer familiarity with TV and video to increase employee productivity, enhance customer experience and develop new revenue streams. It delivers TV and video using your existing building, campus, or wide-area IP network, without the need for a traditional, limited-reach analogue cabling system. Users can view all TV and video channels on existing TVs, video displays and personal computers.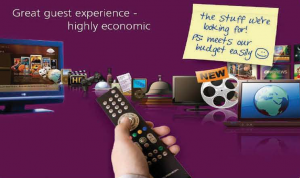 •  Get more from your existing network investment
•  Serve a virtually unlimited number of users
•  Up to HD quality everywhere
•  Future-proof solutionThe IPTV solutions let you manage TV and video channels as just another service on your existing network, like email, internet access, or any business application. This makes your organization's TV and video services more flexible, scalable, and cost-effective.